Farmers are no strangers to risk.  But when you know your land and what makes it tick, such risks often reap great rewards.
When Scott Longbottom and Cheryl Merrett took the leap to plant vines on their Padthaway land in 1993, they applied the know-how handed down from three generations of farmers. This place is part of their DNA.
The reward? Much like Scott and Cheryl, the wines are honest and approachable, wines they are proud to put on the table and enjoy with their friends. Shiraz, Cabernet Sauvignon, Chardonnay and Sauvignon Blanc are all produced under the Farmer's Leap.
Now at the end of a long day breeding livestock and harvesting onions, Scott and Cheryl can crack a bottle they're happy to share and call their own.
They know you will either like them or love them – they've done their bit, the rest is up to you.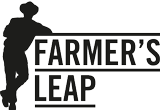 FOR MORE INFORMATION, SELECT A WINE BELOW
No products were found matching your selection.